Dr. Andrew E. Kortz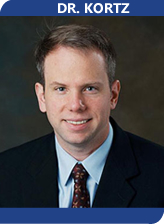 Andrew E. Kortz, M.D. obtained his Bachelors of Science degree from University of Florida, Gainesville and went on to post graduate coursework at Cambridge University, England. Dr. Kortz earned his medical degree from Columbia University in New York, NY in 1991 then continued his training in Ophthalmology at the National Naval Medical Center, Bethesda, MD. while serving in the U.S. Navy. Dr. Kortz went on to complete a Fellowship in cornea transplantation and LASIK surgery at Emory University in Atlanta in 1992.
As a Naval Doctor for ten years, Dr. Kortz was able to serve his country as a staff Ophthalmologist and Flight Surgeon in several locations around the country including Oakland Naval Hospital, NAS Whidbey Island, WA, and Camp Lejeune Naval Hospital, Camp Lejeune, NC. While in the Navy he was also stationed in Pensacola. He found that he liked both the people and the climate of the Florida panhandle and has practiced in the greater Pensacola area since 2002.
Dr. Kortz is a Board Certified Ophthalmologist, certified by The American Academy of Ophthalmology. Dr. Kortz is exceedingly well trained and has extensive experience dealing with a broad array of eye problems and diseases including cataracts, glaucoma, eye plastics, retina and cornea related problems. Dr. Kortz is a highly accomplished eye surgeon.